Shrewsbury
Home of Brother Cadfael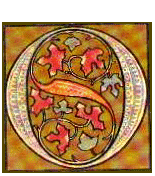 f all the places I have ever visited, I can truly say that Shrewsbury, Shropshire, England is one of the nicest and most pleasurable I have ever been too. Lieve and I had made arrangements to stay at the Anton House, a restored Victorian Mansion bed and breakfast near the city center, owned and operated by Stephen Herbert, who had restored the mansion to it's former beauty. The Anton House was located on a hill that overlooked downtown Shrewsbury and gave us a beautiful view, from our second floor room, of the city's center and it's medieval architecture sprinkled among the more modern buildings. We had arrived in England on a direct flight from Dallas to Gatwick Airport in London, arriving at about 7:45 a.m., London time after an all night flight. We were both tired but anxious to get going on our adventure, so we quickly caught the train to Crewe, England, where we would make the connection to Shrewsbury.
After making our connections in Crewe and Watford Junction, we arrived in Shrewsbury around lunch time, checked into the Anton House, and began looking for a Fish & Chips shop for lunch. We found an excellent one called the Town Fryer's in the city center. I personally, could eat fish and chips 3 times a day, everyday. I LOVE THEM.......! And these were excellent. We then met one of the most wonderful, funny, and genuinely friendly and helpful people I have ever met. Why Lieve and I never got his name is beyond us, but he was one of the local bus drivers. Having never been to Shrewsbury before and wanting to just ride around first and see what there was to see is how we met him. He was on the first bus we caught. He asked us where we wanted to go and we told him we didnt know. Looking at us rather oddly, he said "you don't?" We told him "no, we had just arrived and wanted to look around and then we would decide what to do." He looked at us with this impish grin and said, "sit down, we need to talk".
We rode with him back to the bus station. There was a break before the bus would take on new passengers and begin it's route again, so he sat and talked with us. What a character, half Welsh and half Irish, with a sense of humor to match. He told us how the bus system worked, how we could buy a day pass which would allow us to ride any bus anywhere in the city for one price, and about the town and it's history, and the sites. He was extemely helpful and it was his willingness to help us that made our visit so enjoyable and so memorable. He was truly one of the nicest, friendliest, and funniest men I have ever met. We would see him often throughout our visit to Shrewsbury and he would often tell the other bus drivers to look out for us and take care of us as we were his personal guests and deseved first class treatment, which is exactly what we got. After meeting many of the people of Shrewsbury, I am sure we would have gotten that kind of treatment from them anyway. They are that kind of people. To fight the jet lag from our first day, we stayed up until our normal bedtime locally. We were exhausted, but it paid off as we suffered no ill effects from jet lag at all on the rest of our trip.
Of course, the highlight of the trip and the main reason we visited was Shrewsbury Abbey, the fictional home of Brother Cadfael of the Ellis Peters novels. Actually named The Benedictine Abbey of Saint Peter and Saint Paul, Shrewsbury, it is just called Shrewsbury Abbey or The Abbey by the locals. The abbey itself sprang from a Saxon church built there in before the Normans arrived in 1070. The Benedictine Abbey began there in 1083, and it was one of the most influential in England and it was one of the Abbey's Abbots that pleaded with Henry IV and Harry Hotspur to try and avoid the bloody Battle of Shrewsbury that occured in 1403. You can read about the Abbey and its history by visiting their website by clicking here. We took many picture of the Abbey, both inside and out. I have posted many of them and you can view them by choosing one of the links below.
Unfortunately for us, one of the major attractions that we wanted to see, Brother Cadfael's Walk was no longer available. It had been discontinued only a few weeks before we arrived. One of the locals explained that it was a walk through a replica of Brother Cadfael's Herbarium. They did not know, nor did we find out why it had closed, but it was a disappointment. However, there are other things to see. Shrewsbury Castle is one of them. Nestled behind a thick wall, it is located nearly in the middle of the city center. Inside, the spacious grounds are lined with some of the most beautiful and colorful flowers I have ever seen. Arriving at the end of spring (end of May), everything was in full bloom and the luxurious green velvet of the grass mixed with the multitude of colorful flowers was a delight to eyes and nose as well. Lieve and I sat for an hour or more just enjoying the view and the soft cool breeze. The Library is located across the street from Shrewsbury Castle and there a several churches of both Saxon and Norman architecture to see. The city is encircled by the river Severn and has several beautiful parks where you can enjoy view and the flowers. There are lots of shops and Shrewsbury is the center for many shoppers from the local area. We spent two fantastic days in Shrewsbury and I wish we could have spent more, but our trip this time was planned. But you can bet we will be back to visit this warm and wonderful part of Merry 'Ole England again.




The Pics

Shrewsbury - The City

Shrewsbury Abbey



Page design by Odin. This page, site concept, and
contents copyrighted © 1996-2017.
All Rights Reserved.
Back To Main Page
This page last updated on January 9, 2017.